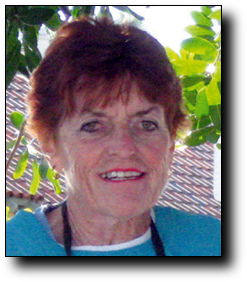 Penny Adams, a devoted advocate for shelter animals and the Director of the Foundation for the Care of Indigent Animals (FCIA), passed away on October 2, 2012. Saving the lives of shelter animals was her passion. As Dawn Danielson, County of San Diego Department of Animal Services said, "Penny championed the dogs that people would ignore, those that were older, often with medical or behavior problems. She always saw the hidden jewel inside and found them loving homes."


Penny first found her calling to help animals in need at the age of 25. She noticed a sobbing lady at a shelter attempting to relinquish her sick pet as she had no money for its veterinarian care. Penny walked over and offered to help. Off they went to a vet where Penny negotiated and paid the fee. And there it started. She began volunteering through numerous animal rescue organizations. In 1982, she was made Director of the Foundation for the Care of Indigent Animals (FCIA), an organization that rescues homeless dogs from shelters, addresses their medical and behavioral needs, and seeks loving homes for these pets. Under her lead, this organization also helps low income families with catastrophic veterinary fees and provides some financial aid for such medical fees needed by other rescue organizations with adoptable pets. With the FCIA, Penny worked with almost every animal rescue group in San Diego County and some beyond county borders.

Penny continues to be our inspiration and we are honoring Penny's memory and legacy by helping as many animals as time and money permit. Some of us would love a place in doggie heaven one day, obviously, Penny has earned her spot.